Scanning (Copies and Printouts)
In the library you can scan documents, articles or book chapters for free.
Chargeable printouts and copies on the TU Dortmund campus: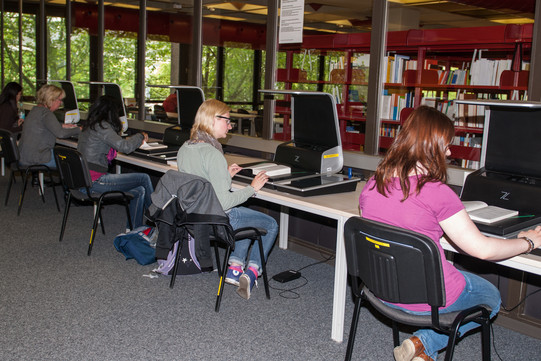 The public copiers have been replaced by public feed scanners that allow you to scan to a USB stick free of charge. Scan Instructions (in German)
A digital scanner for micro formats (microfiches, microfilm rolls) is available on the ground floor of the Central Library. Please ask at the service center.
We offer a variety of services for scanning and copying.
Scans are made by library staff. Mostly for rare books and interlibrary loans which are to be read in the reading room only. Costs 35 Cents per page (DIN A 4). Please contact the digitisation department for further information (telephone: 0231 755 4067).
You can make copies or have copies made for you at the digitisation department of the Central Library, notably documents in DIN A 3 - charges.
Feed Scanners and Overhead Scanners