New Building of TU Dortmund Library
New Library Building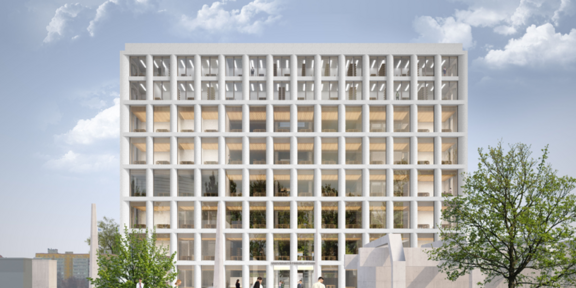 For the move-out, deconstruction and new construction of the library, you will get an up-to-date overview in our new blog. You will find out where to find which books and media, where you can study during the construction period, where to find library services and much more. We will also keep you informed about the deconstruction of the current Central Library and the subsequent start of the new building.
For the latest information on the new building project, please visit our blog Neubau Bibliothek! Here we inform you about all current details regarding the relocation of books and journals. You can also find important information on Instagram. A FAQ on the TU Dortmund University website also provides a general overview of all overarching questions.
The plans in brief:
The Central Library will move out from August 7, 2023 and is subsequently be spread over 4 locations:
Emil-Figge-Bibliothek, central service point of the UB on Campus North (Emil-Figge-Str. 50, 1st floor).
Sebrathweg 7 (library and study area) / Sebrathweg 9 (administration)
Departmental libraries on the South Campus (as before):

Architecture and Civil Engineering
Spatial Planning
The Hybrid Learning Center (HyLeC), previously on the ground floor of the library, will be located in the Co-Learning Space next to the seminar room building starting in September.
Questions, comments, feedback?
We'll respond to you as soon as possible.